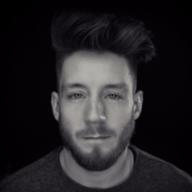 Designer, maker & serial overthinker
---
Open mind and scrambling for improvement. Get my hands dirty with branding, solo-travel & turning to-do lists to done lists. Designer by day @MadeBrave. Tackling side-projects by night here.

So far I've won some awards, brought fun ideas to life that've lingered in the front of my mind and created in Glasgow, London & New York – making good things with good people.

Let's get high on caffeine and throw some ideas around until some start to land with a little gravity.